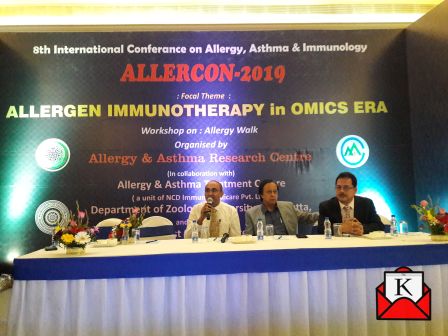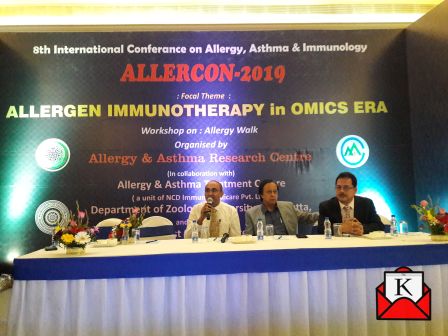 'ALLERCON-2019' the 8th Annual international conference on Allergy & Asthma was organized by Allergy And Asthma Research Center (AARC) in collaboration with Department of Zoology, University of Calcutta and Indian Chest Society at Rashmanch Swabhumi Kolkata.
It was an International Meet of Allergy Specialist Doctors as well as Dermatologists and Chest specialists where about 250 leading doctors and 30 faculties coming from all over West Bengal and various States of the country and abroad discussed on the postmodern treatment and latest technology of Allergy & Asthma along with the effect of Pollution.
ALLERCON is one of the largest platforms of India for doctors, researchers & scientists associated with allergy of human being. Dr. Arijit Das, Dr. Saibal Maytra, Dr. Aratrika Das, Dr. Ritabrato Mitra, Dr. Surajit Chatterjee and almost all the renowned doctors in this field of West Bengal and other states was present at the meet.
Pollution and prevention & treatment of pollution related allergy and recovery was the theme of this conference. Pollution is not only a global hazard but also a growing problem in our country too.  The cases of Allergy and asthma have been increased day by day and turn to complex cases due to pollution.  It is also proved that our respiratory system has been affected mostly by the air pollution in the urban regions. Due to increased pollution, asthma & respiratory diseases have been increased in geometric progression. Mass awareness is very much necessary along with legal action to decrease pollution. To increase the mass awareness on pollution and its solution, such conference is very much necessary.
Dr. Pradip Kumar Mitra, the Director of Medical Education West Bengal was present at the inaugural program as a special guest of Honour with the leading doctors.
March 11, 2019
no responses
3815 Views