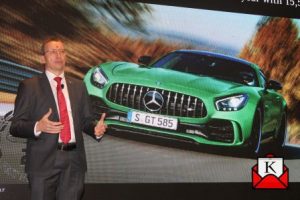 Luxury car manufacturer Mercedes-Benz further deepened its commitment to India by inaugurating two luxurious outlets in one day in Kolkata.
The dealership was inaugurated by Mr. Martin Schwenk, Managing Director and CEO, Mercedes-Benz India and Mr. Sanjay Thakker, Chairman, Group Landmark.
This dealership is Benchmark Cars' third outlet in Kolkata and the seventh one for Mercedes-Benz in East and North-East India. The state-of-art service facility is spread across an enormous 20,300 sq. ft. whereas the showroom spans over 13,000 sq. feet. Both the outlets were made with an approximate investment of 10 crores. The new dealership will cater to the burgeoning sales and service demands of customers in Kolkata and the surrounding areas.
The inauguration of this brand new showroom strongly reiterates the customer centric philosophy which remains core to their business. East remains an important market for Mercedes-Benz is an emerging market with potential to grow in future. In the last five years they have witnessed over 50 percent growth in the region.
March 11, 2019
no responses
4168 Views