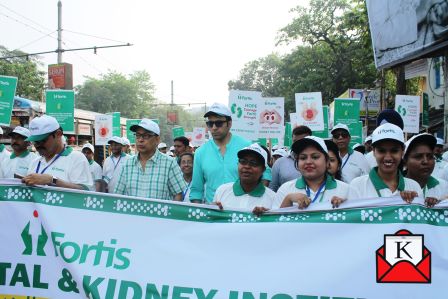 Fortis Hospital and Kidney Institute (FHKI), Kolkata organized a 1.5 kms long walkathon to raise awareness on maintaining a healthy Kidney to mark World Kidney Day. As many 200 people, including specially-abled children from Manovikas Kendra, participated in the walkathon which was kick started at FHKI.
Leading personalities of Kolkata like actor Abir Chatterjee, Dr Shivaji Basu, and Consultant Urologist at FHKI, Dr. R.K. Gopalakrishna, Consultant Urology at FHKI and Dr Upal Sengupta, Consultant Nephrologist, FHKI flagged off the walkathon. The event was also attended by Mr. Kalyan Mukhopahyay, Deputy Commissioner of Police, Mr. Siddhartha Dutta, Assistant Commissioner of Police and Mr. Jayanta Mukhopadhyay, Officer-in-Charge of Rabindra Sarobar Police Station.
The walk started from FHKI and moved towards Deshapriya Park, Rashbehari Avenue, Rashbehari Gurudwara and finally back to FHKI. A health checkup camp was also organized outside of FHKI for people. Here they got their basic health screening done like weight and blood pressure check, Urea, Creatinine, Uric Acid and Random Blood Sugar check followed by Diet Consultation. The idea behind this walk is to raise awareness about growing incidence of Chronic Kidney Disease (CKD) with severe consequences if goes untreated.
March 14, 2019
no responses
3956 Views