The trailer launch of the upcoming Bengali film Vinci Da took place in the presence of director Srijit Mukherji, Rudranil Ghosh, Sohini Sarkar, Anirban Bhattacharya, Riddhi Sen, Bharat Kaul, Rana Basuthakur and others.
The story of the film Vinci Da is about a make-up artist who struggles to make his own place in the industry based on his talent and capability. Despite his father being a make-up artist, he failed to make his mark. When his life was going haywire, Adi Bose entered his life. What happens next?
Srijit Mukherji along with Rudranil Ghosh is the co-writer of the film.
Speaking at the trailer launch event, Srijit Mukherji said "The film will showcase the hard work that makeup artists do. They hardly share the limelight. But with the help of this film, the hard work of the artists will be highlighted".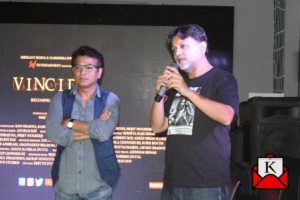 Anirban Bhattacharya plays a police officer in the film. "I am really glad and honoured that Srijit da counted me as a good actor to cast me in his film. After playing the romantic hero in Shahjahan Regency, I play a tough cop in the film" said the actor.
Vinci Da is Srijit Mukherji's third thriller after the immensely successful Baishe Srabon and Chotushkone.
Rana Basuthakur who has known the director for a long time now thanked him for giving him an important role in the film.
Rudranil Ghosh mentioned an incident where a make-up artist did such an excellent work on him that the director cancelled the shoot as the film might be given an A certificate by the Censor Board due to the lifelike makeup. The make-up artist was dejected and it is how the actor came up with the idea of this story.
Riddhi Sen fresh from the success of Nagarkirtan highlighted on the fact that a small role in a film could do great things to one's acting career. Hence he was extremely delighted when he got a call from Srijit Mukherji to feature in this thriller.
The film is eyeing for release on 12th April, 2019.
Priyanka Dutta
March 10, 2019
no responses
3243 Views